Bags
Best Badminton Bags Just for Rackets
Most badminton players need a large badminton bag with three compartments and an extra shoe compartment for all their stuff:
Rackets
Shuttles
Shoes
Towels
Strings
Sports cloths
Fresh cloths
etc
Especially for league matches and tournaments such a big bag makes sense. But sometimes a smaller bag might suffice. Maybe you just play recreationally in the park. Or you drive to the court in your badminton outfit already and want to shower at home? In such cases, a smaller badminton bag just for rackets and maybe some other small stuff like a water bottle would be enough.
Also read: Top 6 Best Plastic Shuttlecocks for Badminton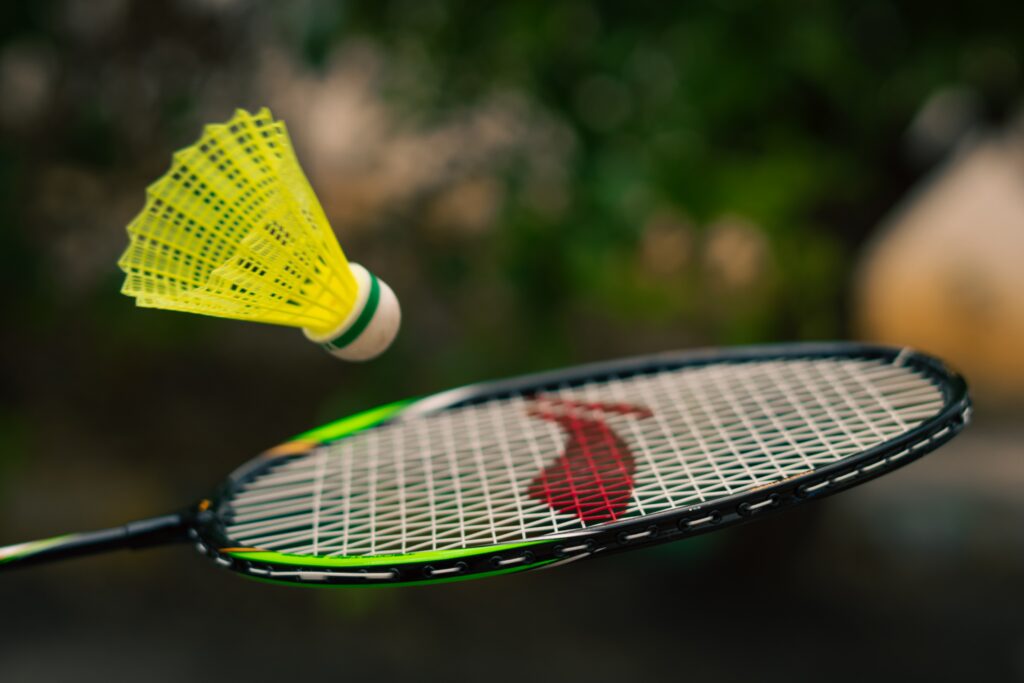 Best Full Cover Badminton Racket Bags
8. ITODA Badminton Racquet Cover Bag for 3-6 Rackets
A racket bag for a few rackets and even an extra show compartment. Available for a good price. Quite similar to the Senston and Guang Yu bags that appear later in this list. But a little smaller.
7. Yonex Badminton Full Cover for one Racket
Just a full cover for one racket, nothing else. It just protects your racket. But therefore…its Yonex. Looks great and the usual high quality.
6. Badminton Racket Cover with Adjustable Shoulder Strap
If you buy a badminton racket without a cover or maybe a cover just for the racket head, this bag is a good choice. It protects the whole frame, looks stylish, is durable and available for a cheap price. Not much more space for anything else, though.
5. Senston Unisex Badminton Racket Bag with Adjustable Shoulder Strap
Senston is a good badminton brand for recreational badminton players. Those players do not need extremely high-grade equipment from Yonex. Cheap and sturdy is most important here and this bag keeps up to it. You can store up to 3 rackets in there easily.
4. Badminton Racket Bag – Big Capacity – Waterproof
This bag is a little bigger than the ones before and fits more than just rackets. I would like to recommend it anyway due to the fantastic price. This is really value for money. It fits 4-6 rackets in its two main compartments. Additionally it has another smaller pocket for water bottles etc. and even a compartment for your shoes. The bag is still quite easy to handle and compact, though. A very good choice for recreational players.
3. Senston Badminton Racket Bag – Waterproof and Dustproof
This Senston bag is similar to the Guang Yu bag in this list. It has a similar structure. Two main compartments for up to 6 rackets (or 3 rackets and cloths, water bottles etc.) and some smaller compartments. Also one for shoes. Still the bag is quite compact and the Senston one has even better quality for a cheap price as well. The big Yonex and Victor bags are processed even better of course. But if you dont want to pay the prices of the top brands, this bag is a good alternative.
2. YONEX 42123 (Black) Badminton Team Racket Bag
Not the cheapest bag, but looks very stylish. And has an additional compartment for smaller stuff.
1. Yonex Endorsed by Legend Lee Chong Wei Special Limited Edition Badminton Kitbag
Ok, here with have the number one badminton bag for rackets. Its certainly not cheap, though. Its the noble and classy version for those ones, who like to stand out from the crowd. Because this is a special edition with a signature of badminton superstar Lee Chong Wei on it! Availabe in two colors. I personally prefer the golden one, looks extremely good. The bag has two compartments. A big one for up to 3 rackets. And a smaller one for delicate stuff like grips, strings, smartphones, keys etc.
The handles allow to carry the bag in your hand or throw it over your shoulder.
---
So these are the best badminton bags just for rackets. Feel free to leave a comment!
Also read: Top 10 Best Badminton Shoes For Men
Also read: Yonex All England Open Badminton Championships 2022 – Review
Also read: Top 10 Best Badminton Sets with Rackets and Shuttlecocks