Badminton is a wonderful sport for kids. They can play outside in the garden or park and they enjoy it so much. All you need is some rackets, a shuttle and a net. So why not giving them a complete set with rackets they can handle and well flying shuttles? There a many available on the market for a cheap price. So lets have a look…
Also read: Top 10 Best Badminton Sets with a Net in 2022
Also read: Top 10 Best Badminton Sets with Rackets and Shuttlecocks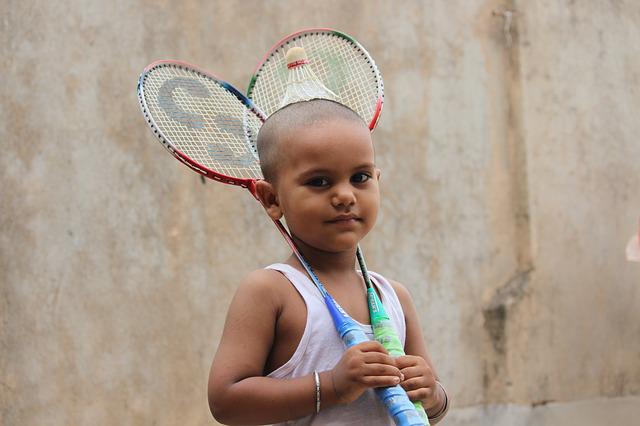 Best Badminton Set for Children – Top 10 List
10. Kids Badminton Rackets Kit – Set Includes 2 Rackets, 1 Plastic Badminton, 1 Color Ball, 1 Sponge Ball and Racket Bag(Pink)
Very cute set with pink rackets for little girls. Comes with various birdies. Will of course not be enough for playing real badminton, but young chikdren will have fun using these and try to hit the shuttles successfully.
9. Badminton Rackets for Kids – Lightweight Badminton Racquet Game Set with Birdies
A very good package here for a cheap price. Two rackets with perfect size and weight for small children – available in various colors. Comes with a practical bag for easy carriage, a few colorful shuttles and even some table-tennis balls for a change. Perfect for a day at the beach. Your kids will have fun.
8. Two pairs of badminton rackets set for children with 8 LED birdies and 6 non-luminous birdies
A lovely badminton set for kids. It contains 4 sturdy rackets alltogether, a little smaller and shorter than usual badminton rackets, so the kids can handle them. The best thing about this set are the luminous birdies in various colors. Your kids eyes will blink like the LED shuttles.
7. GSTUITGO Badminton Rackets for Children – 16 in 1 Badminton Racquet Sports Set with Lightweight Carrying Bag for Kids
A very complete set with some nice additional gadgets. As expected there are two rackets with shorter shaft and ten birdies to hit. Added two this are a sweet bagpack, a towel, a whistle and rubber rings. Kids will love to use those as well and carry the whole set around with joy. It is kept completely in pink colors, so maybe consider it for girls and not for boys.
6. Ksera Badminton Rackets for Children 1 Pair, Lightweight & Sturdy Badminton Racquet Set for Kids
Just a couple of aluminium rackets here with a suitable size for kids + a few nylon shuttlecocks in blue and pink colors. Quite durable and good to handle for a very cheap price. A fair deal.
5. Franklin Sports Kids Badminton Racket Set – Smashminton Kids
Franklin is a good brand for these kind of badminton sets. It consists of two quite small rackets that are easy to maneuver for little children. What makes this set special is the soft foam corks of the shuttles. These make it easier to play, because birdies with regular corks might be too heavy for the little ones.
4. Badminton Racket for Children 1 Pair, Nylon Alloy Durable Badminton Racquet Set for Kids
A very cheap set with two rackets with short handles, a backpack and various birdies. Regular shuttles, foam-cork shuttles and foam balls. So the kids can choose, who type of birdie they enjoy the most.
3. Trained Premium Quality Badminton Rackets, Pair of 2 Rackets, Lightweight & Sturdy, with 5 LED SHUTTLECOCKS, Carrying Bag Included
A really cool family set with LED shuttles, that you can actually turn on and off. There is even a flashy mode. Kids will love playing with these in the dark, looks very nice. The quality is fine, but of course not made for intermediate or advanced players. More for family fun in the backyard.
2. STSTECH Badminton Rackets for Children,12 in 1 Shuttlecocks Racquet Sports Set with Lightweight Carrying Bag
This is another badminton set for kids with two rackets, a carrying bag and varous shuttlecocks, regular ones and foam balls. Also very colorful to attract the attention of the little ones. What makes this set stand out, that the quality in terms of sturdiness and durability of the items is a little higher. All of these sets wont last forever, but this one will a bit longer.
1. VSSAL Portal All in One Badminton, Pickleball, Volleyball Net Set – Adjustable Net For Outdoor
So here with have the best badminton set for children. Although it is much more versatile and not for very young kids. It does not come with smaller than usual rackets, so the kids need to be able to handle those and of course, teenagers and adults will also enjoy this. The best part about this set is, that it can be used not only for badminton, but also for Pickleball and Volleyball. You can easily adjust the height according to what you want to play. Besides the badminton equipment it also comes with a volleyball, pickleball rackets and pickleball balls.
So we all know that badminton is the best sport in the world, but sometimes playing another sport for a change can be nice. So give this a try. Its fun for the whole family. It even portable, so it can be set up in the garden/backyard, in a pool, at the park…pretty much anywhere. So this is clearly my number one pick.
---
So these was the Top 10 list about the best badminton set for kids. Feel free to leave a comment!
Also read: Best Badminton Sets
Also read: Sudirman Cup 2023 in Suzhou – A Preview